Many Dog owners spend a fortune on their Dogs. From Luxury Personalized Dog Beds to Fancy Collars, Leads and clothing, the amount you can spend on Dog items is vast. For cheap Dog beds and a great selection of the best Dog beds then you really cannot beat the huge selection on Amazon here
.
As we have another round of all day Laundry here, washing all the various things the Dogs sleep on, it got me thinking about how much we have spent on Dog Beds over the years. Dozer the Dogs quest for a new bed made me think about my three Dogs and what they are happy sleeping on.
Luxury Dog Beds Or Discount Dog Beds?
The Best Bed For Dogs
Of course, most Dog owners will tell you that the best Dog Bed is anything they are not supposed to sleep on! The Sofa is a firm favourite of my Dogs, but the furballs they create are too horrendous to let them go on it all day.
In the past we have bought expensive Dog Beds, cheap Dogs Beds and all have had one thing in common. They got eaten! Three Dogs, when they get each other excited, can reek havoc on any unsuspecting item. As little holes begin to appear in the Beds they would get sewn back up, only to reappear a day or so later.
Whether we bought a posh Dog Bed or a cheap one they all got chewed the same. Trying to stop a puppy biting your hands is one thing, but there was little hope for the Beds when our backs were turned. I really have found no real difference in how long a lovely, quality  Dog Bed would last over a discount Dog Bed. One may look a bit better but the lifetime of the Beds was about the same.
The Dogs have had deep padded beds, thin ones, fat ones, everything but a Gold Plated Personalized Dog Bed with their name sewn on it.
Is there such a thing as an indestructible Dog Bed? I have yet to find it if there is. The best I can find is a waterproof, heavy duty Waterproof Dog Bed
. It has two layers of material which should make it harder for a Dog to chew through to the inside material. This, like most other Dog Beds that claim to be hard wearing is where my concerns lie.
This Luxury Dog Bed (by my standards of what I like to pay!) still has a Foam filling that will eventually be got at. Especially by a young and energetic Dog. I have to say that the Dogs have stopped chewing so much now they are out of adolescence so their destructive nature is quite low, but I would imagine that it still won't last for ages.
Are Dogs Beds Dangerous?
My concerns with most so called durable Dog Beds is the stuffing. As soon as our Dogs got the stuffing out of their Beds when they were playful Pups we ended up throwing them away. I was worried that the stuffing could be dangerous to them. Not that they would eat it on purpose (hopefully), but a playful Dog can easily ingest something it shouldn't without meaning to.
I don't know exactly what is in all Dogs Beds but Polyurethane and other such stuffings must be a concern, surely?
Maybe it is my paranoia. I have never heard of any Dogs in Danger because of eating the stuffing from their bed but I am sure it must have happened.
What Are The Best Dog Beds?
Safe Dog Beds
As I mentioned at the beginning it is a big Dog Bed wash day here today. All their Beds are getting a wash and a good airing in the Spanish Sunshine.
What are the Dogs Beds?
Rugs.
We have totally stopped buying expensive Dog Beds, cheap Dogs Beds, or anything that is sold as a Dog Bed. Although Dogs would love a super expensive, foam filled, luxury Dog Bed I have decided there is no need.
Am I being unfair? I don't think so. I look at it this way.
In the daytime they are in and out of the house. They would prefer to lie down on the hard concrete (or quite often the bench) outside  the front Door than be inside, whatever they had to lie on. When they are inside they will lie on whatever there is available. We have no carpets here in Spain and I am glad for that. The Dogs see a cheap, inexpensive Rug as a great Dog Bed. Old Rugs that are tattered, ripped or torn are not ideal as a design element in the Home but neither are most Dog Beds, luxury or otherwise.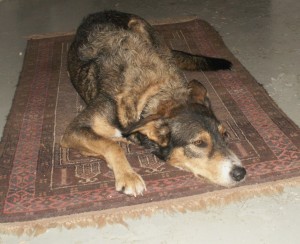 Gone are the days we have to worry about the stuffing causing a problem. Gone are the days of spending a lot of money on durable Dog Beds. I know for many they want a nice, plump bed for their Dog. In colder areas this is more important, but I have found a few old Rugs on top of each other is surprisingly warm and comfortable for the Bone Munchers.
Discount Dog Beds
You can't get cheaper than free!
For those on a budget you can't get a more discount Dog Bed than a free one. If you don't have much cash, or you are fed up with expensive Beds getting ruined then a few old Rugs is perfect. I bet if you ask friends or Family nearly all of them will have old Rugs or Blankets that they are willing to give away. We have loads of old Rugs for the Dogs to sleep on. They were really handy after the Dog Spaying that Jet went through the other week. She was shivering like mad. A lot of layers over and under her got her really warm in no time.
A few of our Rugs are high quality but still they are untouched. It does seem that the lack of a foam filling means the Girls are less interested in chewing their Doggie Beds.
I think it is ideal, especially if your Dog is destructive.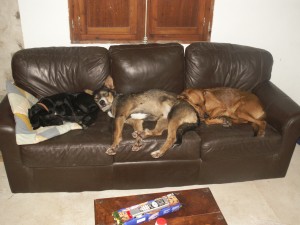 Oh, they still sleep on the Sofa in the night though! It's the best Dog Bed there is. Note it is even better than a pack of chocolate Biscuits!  Strangely they have never tried to eat, scratch, or tear at the Leather. I think they know that if they did there would be no more Sofa sleeping for them. They may not be as daft as they look!
What do you think? Good Idea, or do you like a really nice big Dog Bed for your Pooch?