If you have been looking for cheap pedigree puppies for sale then you have come to the right place. Here we have a gorgeous pedigree puppy for sale that absolutely is not 1 year and almost 4 months old.
This pedigree puppy is absolutely not the puppy from Daisy (the gorgeous Dog at the top right) who was very naughty last year and had  5 pups. This puppy absolutely is not, in reality, not a pedigree puppy at all but a cross between who knows what and certainly nothing remotely near to a pure breed.
This puppy is lovely and young and really cute and absolutely not well over a year old and beginning to get really naughty.
Roll up, roll up, get your pedigree puppy here.
Lowest price wins. Get bidding now. If you want a pedigree puppy then this is the best puppy auction ever. The lower the price you bid the better your chances are.
This puppy that is over a year old is not called Jet and does not have a really gormless face with big floppy ears. This puppy doesn't have giant Scooby Doo puppy pads that make here look like a cartoon Dog.
This puppy absolutely has not decided that she is still only a little baby and because the Spanish summer is beginning to be over that she needs to sneak on to the bed all the time in the night and make Mrs. Three Dog Blogger have a bad back in the morning.
This pedigree puppy has not decided that she wishes to learn how to talk. This puppy has not decided that the best way for Dogs to learn how to talk is,whenever she is awake, to open and close her mouth in a stupid looking way and make growls, yelps and all manner of stupid noises.
This beautiful absolutely perfect, and not naughty at all puppy, has not decided that she now needs to play whenever she is awake, and that to play she has to bark at you until you submit. This puppy does not make your ears feel like they are about to explode and make your brain rattle in your skull.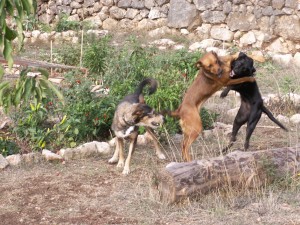 This pedigree puppy for sale cheap does not constantly come up to you and paw you and bark in your face and try to bite any piece of clothing that you may be wearing.
The best price for pedigree puppies is here and this pedigree puppy does not live up a Spanish mountainside with 2 other Dogs which means she doesn't get socialised enough because there is no room in the Car. This puppy is not under socialised because every time she gets in the Car, after being grabbed because she tries to run away, she throws up and then tries to eat it again. In fact this low priced pedigree puppy loves going in the Car and never tries to hide underneath it so she can stay at home.
This puppy is really brave and nothing like her shy Mum. She does not lie upside down and open her legs in submission if you bring the Car near the house and ask if she wants to go for a ride.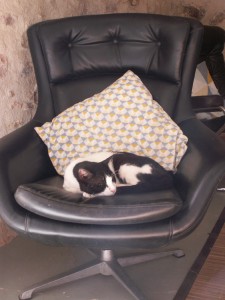 So, if you want a low priced pedigree puppy, and not a naughty teenage mongrel, then leave a comment with your bid. Remember the lowest price wins.
Oh, and I will throw in an evil Cat as well (please).