Well, after the chaos that ensued here yesterday with insane winds that left 15 people dead in Spain and 1.5 Million without power in Southern France we obviously didn't go walking!
Here at the Finca we had Olive Trees uprooted, roof tiles flying and general chaos. It was hard to even stand up whilst walking the Dogs!
This morning we were a little surprised to find that it was a totally still and cloudless, sunny, and very warm day. It was time for the Doggie Delights For The Weekend challenge!
The big hike was back on!
It was on with the walking boots, the Dogs bundled in to the car and their Dog seatbelts put on.
We drove down to the coast then in to a fabulous mountain range. The walk started in a valley and we gradually climbed upwards for an hour through a fabulous Holm Oak Wood that has been recorded as being coppiced as far back as the 12th Century!
Every so often we came across small Fonts where we could stop and refill our water bottles and give the Dogs a drink.
It really was a magical place. It was a very steep climb for an hour but well worth it. The Dogs were having a fantastic run around. We kept alternating so that one of them was always on the lead. It's good to take opportunities to reinforce the need for them to heel, and it was also a great opportunity to practise recalling them back and getting them to sit even when they are very excited.
After the hour long climb in the surprisingly warm shade of the forest we burst out in to dazzling Spanish sunshine to be confronted by a massive old ruin of a house dating back a few hundred years.
The Dogs had a great time exploring and they even find some youngsters smoking something they shouldn't have been! Behind the house was a big open area that used to be used to grow food for the house and before that, dating back to 1273 it was a communal grazing area for the local farmers. It was full of tiny little Daisies all pointing towards the Spanish sunlight.
After a good old explore and a hunt in the bushes for little Birds to chase we had a treck across the ridge of the hill towards our final goal. Mrs.Three Dog Blogger insisted that she wanted to be photographed for posterity with the Bone Munchers so I happily obliged.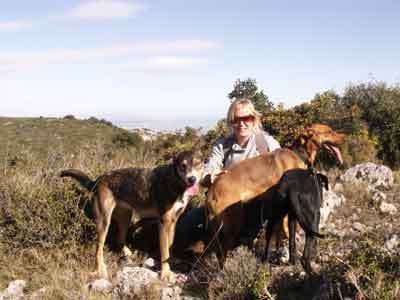 As you can see the little Munchkins were glad of the rest!
After a good bit more trecking we got to our final goal, and it was well worth the climb. Magestic views out over the ocean and to the Delta where Rice is grown. It has built up high deposits of silt over time that is brought down from the main River. It's super fertile and stunning to see from such a vantage point.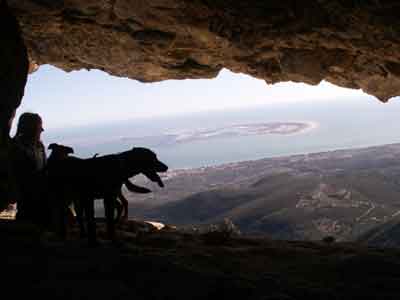 After a great lunch of quiche, cake and Cava (not much for the designated driver), it was time to reluctantly take the hour long hike back down. Not before having a final munch on some more cake though!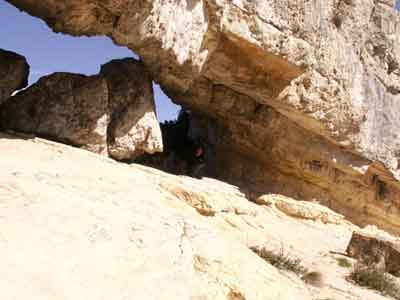 We hiked back down a different trail until, reluctantly, we were back at the Car. The Dogs happily dozed most of the way home and hopefully they will do the same this evening.
You know what they say " A tired Dog is a happy owner".
So, for those that took the Doggie Delights For The Weekend challenge, how did it go?
Where did you go, what did you do?
For those that didn't get an oportunity for a great day out, will you be doing it soon?
You know the Dogs deserve it!
May the Doggie Force be with you all.