You all know I love setting tasks to complete for a better life with your Dog.
Some of the most popular have been the 31 Dog Duties for 31 Days (which I know a few of you are still in the process of doing), and 21 ways to a happier Dog and owner has been implemented by quite a few as well.
Well, this one is as much for you (and me) as it is for the Dogs.
I got to thinking last night how me and Mrs.Three Dog Blogger have been spending WAY too much time in the house of late. If we're not blogging we're researching, messing about on Twitter or any of the other online activities that suck away your time. Like reading other Dog Blogs instead of this one! (There can be only one "THE Dog Blog")!
It's all too easy to get in to a rut and life just passes you by and one week blends in to the next. Same old, same old.
Look, take this weekend for example. What have you got planned? Shopping? TV? A lie in and a laze about the house? Maybe a quick walk with the Dog?
Ditch it!
Here is what I came up with for the weekend.
An Uber Walk!
Forget the mundane, stuff you always do, kind of weekend, and have a bit of an adventure.
When was the last time you went for a real hike? I don't mean an hour walking in the Dog Park, or a slightly longer expedition out, I mean a three,four, or five hour hike-fest.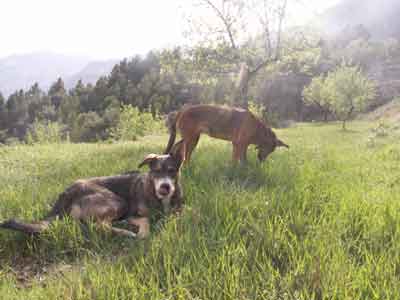 OK. This is what I did today and this is what I will be doing this Saturday or Sunday.
We put on our tidy clothes (we are normally in scruffs up here), made the 2 hour round trip to the nearest town, bought a nice bottle of Cava and loads of great food. (Lots of treats for the weekend). Mrs.Three Dog Blogger will be making a nice cake tomorrow and a quiche (she doesn't know it yet), and on the weekend me and all the Girls will be off to spend some quality time together.
It will be down from this Mountain and up another one. It will be up early and a load of goodies in our Backpacks. By lunch time we will have walked a good two hours up a mountain and will be sat sipping Cava, having a cuddle, and trying to stop the Dogs nicking our quiche!
What could sound better than that? A real long walk in the country leaves you feeling fantastic. By late afternoon you will be home having had a great, special day out and can have a well deserved nap in front of whatever rubbish is on the TV.
I will let you all know how it went with a weekend blog post.
So, here is the challenge.
Leave a comment below saying you will do it (it will motivate you)
Ditch the usual stuff you do for one day on the weekend.
Get yourself a load of goodies and a nice bottle of something
Grab a friend, partner or go solo (more food for you)
Find a good place to go walking
Walk for hours with the little Dogster
Come home feeling tired but knowing you had a day to remember
Fall asleep in front of the TV.
Tell us all how it went in the comments section on my weekend post
Can't be bad can it?
Got to be better than going to the shops or doing the laundry!
May the Doggie Force be with you all.