Browsing one of the top Dog Shops this morning I cam across this great Dog Doormat. A funny greeting on the doorstep will always make people smile. In the present climate a bit of fun is definitely called for. Let your Doggie bribe your visitors by threatening a hostage situation if they don't get what they want!
I'm sure the Girls would love one to wipe their constantly muddy Paws on, before they rampage through the house
searching for anything white and clean to jump at and leave a nice Doggie footprint!
If you want to lighten the load a little and make your guests smile then you could do far worse.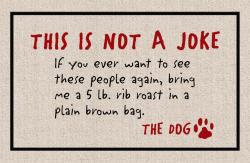 Brighten up your guests day, and who knows the Doggies may do quite well out of it as well!
May the Doggie Force be with you all.