I really do wonder about the Dogs sometimes.
Me and Mrs.Three Dog Blogger and the three Bone Munchers are very privileged to live where we do. We dropped out of City life over four years ago and now live a completely different existence. When I open the door in the morning this is what I see.
I never get tired off it and love the open space.
The Dogs have a habit of going off in to the woods by the side of the house and running around like loons! They also love to run around the terraces by the Vegetable plot playing chase and seeing if they can destroy a Cabbage or two.
After running around like nutters they will collapse in a heap, or, as Faye like to do, have a little sleep on the bench outside the front of the house. Now, you would think this would be sufficient exercise for the little Cabbage Killers, but oh no!
It doesn't count!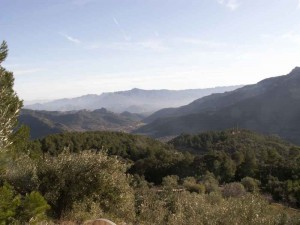 We didn't go with them, so it seems, in their opinion, that they haven't had their morning walk!
They can all be panting away and really in need of a sleep but whatever activity they get up to in the mornings it is all irrelevant to them as far as their daily outings are concerned.
Dogs are creatures of habit and love to have a regular routine. Perform the same activity for a few days at the same time and you can guarantee that they will be up and ready for the fun near enough to the minute.
Now, it's not like they need any more exercise for the morning if they have been running about like the little Demons that they are, but if they didn't actually get taken anywhere then the duty must  be performed. I don't mind as a tired Dog is a good Dog but I really do wonder what goes on in their little brains at times!
So, what quirks does your Dog have?
Do they have routines that they remind you of when the time is due?
Do they ruin your Cabbages too?