Any regular readers of the site know I place the health of my Dogs teeth pretty high on the list when it comes to looking after Dogs.
After spending a fortune on a previous Dog because we never gave his mouth a thought I am now ensuring it doesn't happen again. I now write about it on occasion and given the chance will write about in guest posts like I did for Lindsays great blog. Read the post about cleaning Dogs Teeth and the many benefits of Bones for Dogs if you missed it before.
By the time our previous Dog, Sam, was two, he already had the beginnings of very  bad Dog breath. His teeth had started to have discolouration and not too long after that he really had very bad breath indeed. I was totally at fault, to be honest I never even thought about how I could clean his teeth. I just assumed that bad breath and dirty teeth was the way it was when you had a Dog.
What I would like to do is collect photos from anyone that would be kind enough to send them in. Take a photo of your Dogs teeth and send it to me. Let me know their age and whether or not you are involved in cleaning Dogs Teeth. This means either with a Toothbrush and Dog Toothpaste, by feeding Raw Bones or maybe by giving Nylabone Bones.
It will be interesting to see what the results are. Don't feel bad if your Dog has dirty teeth, this is really what it is about. It will be interesting to see the difference in colour etc. I know that at only a few years old and Jet at only about nine months, the Dogs are still fairly young to have very dirty Teeth but I know from experience that two years old is old enough to have the beginnings of discolouration on their Teeth.
Here are a few pics of the Dogs and their Shiny Snappers.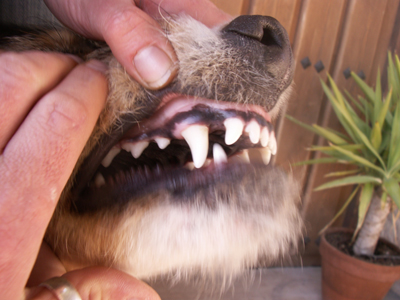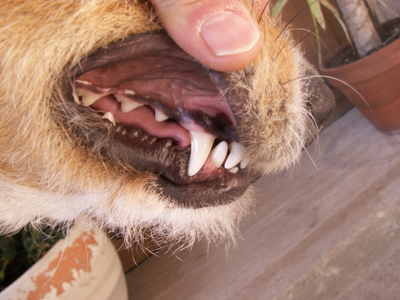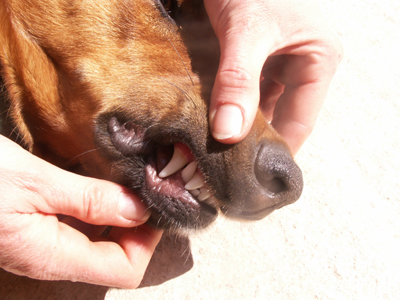 Taking photos of Dogs Teeth is not the easiest but give it a go. Whether they are super clean or a bit worse for wear give it a go. Send them to me and in a week or so I will post some of them and we can see if feeding Raw Bones or brushing Dogs teeth makes a real visual difference.
I know for certain it helps cure bad Dog breath and saves on Vet bills.Teeth cleaning for Dogs is so important. If nothing else, by just taking a photo you will have got a great look at your Dogs Teeth and know whether or not you need to pay more attention to their Oral Hygiene.
Please send your photos to woof@thethreedogblog.com, they don't need to be over 400 pixels wide so try not to send anything too large if possible.Tell me your Dogs age and if you do anything to keep their Teeth clean. The results may be very interesting.