UPDATE: There is a great new product on the market that is much easier to use than a toothbrush for those looking how to clean Dog's teeth. Click HERE to read about this great product
. Called oral hygiene chews they are extremely cheap but amazing for keeping Dog's teeth clean.
It will take a few attempts using a toothbrush before your Dog becomes accustomed to cleaning Dog's Teeth. We shall now take a comprehensive look at how to clean Dogs Teeth. Here at this Dog blog keeping Dogs teeth clean is very important. Bad Teeth in Dogs can be prevented if you read this post. Use the link above if you don't think a toothbrush is the best option. And after reading the reviews via the above link I think the chews may now be a much simpler option to keep Dog's teeth clean.
Teeth Cleaning For Dogs
It really cannot be over-emphasized just how important it is to keep your Dogs Teeth clean. We look after our own Teeth but many of us neglect the Dogs Teeth. Cleaning your Dog's Teeth, whether you brush your Dogs Teeth, or take it to the Vets regularly to keep your Dogs Teeth clean should be a priority. Dogs Teeth and Gums need to be looked after just like ours do. When you clean your Dogs mouth, its Gums and its Teeth you are setting it up for a much healthier life.
How To Clean  Dog Teeth
Anyone who reads this Dog Blog on an even infrequent basis will know I am a firm advocate of Raw Bones as the ideal way to naturally clean Dog's teeth. I wrote of the benefits of Raw Bones to help cure bad Dogs breath and the many other benefits of Raw Meaty Bones when it comes to Dental hygiene.
Many people just can't seem to face feeding their Dogs Raw Bones or are worried that their Dog may have problems because of it. That's understandable and we all have different opinions on many aspects of looking after Dogs.
However there is no doubt that you MUST find a way to look out for your Dog. Teeth cleaning for Dogs is of prime importance.  If you read the two posts I have linked to above you will see the many problems that ensue, both for the Dog and your pocket, if you do not keep your Dogs teeth clean. I know from experience that if you neglect your Dogs mouth you are in for a very, and I mean very, large Vet bill at some time in the future. It is also severely risking the chance of your Dog becoming very ill. Cleaning Dogs Teeth really cannot be neglected. Learning how to clean Dogs Teeth is one of the biggest favors you will ever do your Dog.
A few days ago I asked on Twitter what everyone used for cleaning Dogs teeth and the overwhelming consensus for what was the best teeth cleaning product for dogs was Petrodex Dog Dental Care Kit, Beef Toothpaste, 2 Toothbrushes
. I looked around the various Doggie Shoppies and found it. It seems although very important it is not always easy to find the right products to easily and quickly learn how to clean Dog's Teeth.
Everyone on Twitter said that their Dogs actually enjoyed having their teeth brushed with Chicken or Beef flavoured toothpaste, I mean, who wouldn't! In the Dog world anyway! For $15 you get the paste, a double ended toothbrush, and a few extra goodies. Not much more than buying the stuff for yourself. Teeth cleaning for Dogs is so important that this minimal investment really is worth it.
Investments like this need to be made and if you don't find a way to keep your Dogs teeth clean you will be looking at spending about thirty or forty times that at some point in your Dogs life unless you are a very lucky Dog owner.
We eventually got in to the habit of brushing our old boy Sam's teeth, but only after the damage was done. It takes a while for them to get used to it but they soon seem to enjoy it.
To clean your Dogs Teeth take such a minimal amount of time that there really is no excuse not to do it. Just like Humans Dogs Teeth need regular brushing and you need to ensure you clean their Teeth, mouth and gums at least twice a week.
Removing Tartar From Dogs Teeth
If you let the Tartar on your Dogs Teeth build up too much then you may not be able to remove it by brushing your Dogs Teeth. You may need to go to the Vets to have it done. Start early and get your Dog used to having its Teeth brushed, its Gums brushed and its Mouth brushed regularly. It really will save a lot of time and Money in the future. Removing Tartar from your Dogs Teeth will not even need to be considered if you start cleaning their Teeth from an early age.
Remove Plaque From Dogs Teeth
To remove plaque from your Dogs Teeth may again make a visit to the Vets necessary. When Dogs Teeth get too bad then they need to have them professionally cleaned. The Plaque and Tartar on a Dogs Teeth can build up surprisingly quickly so brush their Teeth regularly and you may save yourself an awful lot of Money.
Anaesthesia To Clean Dogs Teeth
When the build up of Plaque and Tartar becomes serious then your dog may need to be put under anaesthesia to have their Teeth cleaned. This is far from ideal and avoiding having to put your Dog under anaesthesia to clean their Teeth should be a goal you have. The dangers of anaesthesia to clean your Dogs Teeth can become a real concern, especially in older Dogs. There are always dangers involved and you should avoid anaesthesia for Teeth cleaning if at all possible. Cleaning Dog's Teeth regularly will mean you won't have to resort to this.
Older Dogs risk much being out under so if you can spend a few minutes every week trying to avoid the problem then you should. An operation just to remove Plaque and Tartar from Dogs Teeth will never have to happen if you keep on top of learning how to clean Dogs teeth.
How To Clean Dog's Teeth
Teeth Cleaning For Dogs Step By Step
First a video all about how to clean Dog's Teeth.
If you are going to use a toothbrush and toothpaste, which it seems is one of the best alternatives to Raw Bones here is how to go about it.
Firstly NEVER use human toothpaste. Dogs cannot spit and will eat the toothpaste. Human toothpaste is not edible! Human Toothpaste for Dogs is absolutely out. Cleaning Dogs Teeth must be done with Dog toothpaste.
If your Dogs teeth are in bad condition or discolored, get them cleaned properly at the Vets first before you regularly do it at home
Clean your Dogs teeth a minimum of twice a week, more at first to get them used to it
Use either the toothbrush, the finger brush or gauze. Experiment and see which is easier to use
Find a comfortable position, I found a little to the side best and ensure you have a good hold on the muzzle and lift the lips away from the teeth. A helper may be in order to begin
Brush in circular motions much as you do your own teeth
Ensure you brush the gums and get right to the back teeth
Be prepared for lots of licking! Cleaning Dogs teeth can even become a treat!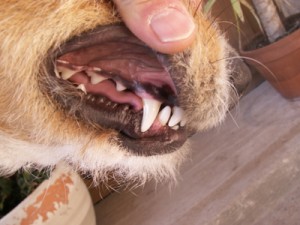 It may not be the easiest thing to do initially but your Dog will get used to you lifting its Gums to clean their Teeth, Mouth and Gums. See how clean my Dogs Teeth are.
This is from Raw Meaty Bones, not from a Toothbrush. If you don't give them bones, which acts like a rough Toothbrush for Dogs Teeth then you need to do it manually as described.
To get your Dog used to you cleaning its Teeth I would recommend repetition as they key. Try just lifting your Dogs Gums repeatedly every day, it will soon get used to it and make the act of cleaning your Dogs Mouth that much easier.
Cleaning Dog's teeth really isn't that difficult once you have done it a few times. Just remember not to use human toothpaste and if possible also give them hard Toys to chew on if you don't want to give them Raw Bones. The chewing and scraping actions helps to keep their teeth in top condition. Dogs teeth and Gums are very important to its overall health. You really must either buy the best teeth cleaning product for dogs, which is the Petrodex Dog Dental Care Kit, Beef Toothpaste, 2 Toothbrushes
. Get it for a very small cost or give them plenty of Raw Meaty Bones.
Hopefully you can now answer the question "How To clean Dogs Teeth?"