I was talking last night with Mrs. Three Dog Blogger and we started talking about our previous Dog Sam. He was with us since we were young. We had him for sixteen years and he was the best buddy ever. In later years he began to go blind and deaf but life was still a joy to him.
We began reminiscing about him and the topic of all his Lumps and Bumps came up. Boy was he a Lumpy Bumpy Dog over the years. Apart from the cost of Dental operations because we never knew how to clean a Dogs Teeth he also had a few other operations over the years.
He was a Dog very prone to all manner of Lumps. I thought it may be helpful to go over a few of the Lumps and Bumps that your Dog may have or may get. Obviously, though, if your Dog has a Lump or Bump get straight to the Vet.
Lumps On Dogs Side?
Sam had a very large Lump on his side. It was a large Lump that seemed to get a little bigger as he got in to old age. It was a fairly soft Lump but still of concern. It seemed to be between his Ribs and the Skin.
Quite often Dogs get these big Lumps on the side. The Vet told us not to be concerned. It was a Fatty Lump that was not dangerous to him. We left it alone as recommended by the Vet and never seemed to be of concern to him.
It was the size that was a concern. It was about the size of my Palm. Quite a big size for a Medium sized  Dog. It never bothered him at all and caused no problems. He felt a bit Lumpy but that was all.
Lumps On Dog Head?
A Lump on a Dogs head my be a simple build up of fatty tissue or it may be something altogether more worrying. A soft lump is usually a a harmless fatty Tumor but not always. Be sure to get it checked by the Vet.
Sams Lump was harmless and the Vet tested it. Although it was not cancerous we had to keep a close eye on it. It did start to get larger and although not dangerous as far as the Lump itself was concerned it was quickly getting too close to his eye. The Vet then recommended that it be removed as it could have caused him serious problems. At this time he was not too old, so the fact he was having a serious operation, although a concern, was not as much of a problem as if he was older. He did, however, look like Frankensteins Monster for a few weeks! He scared off all the other Dogs in the Park. Not that he minded. More Squirrels to chase for him!
These soft fatty Lumps that appear always need to be tested but only have them removed if absolutely necessary. Going under anaesthetic always creates a serious risk to your Dog.
Lumps On Dogs Back?
Just how many Lumps can one Dog have? Well, Sam seemed to be going for some kind of record. I can see it now
"Sam, the lumpiest Dog in the World"!
He had quite a lot of Lumps on his back. All of them were tested and they were all soft fatty Lumps that we of no danger to his health. None of them were removed. There is no need to have Lumps removed from your Dog if they are not of immediate concern.
These Lipomas should be left unless they grow too big or like the Lump near Sams eye, they begin to cause a problem. They may be removed for aesthetics but you are putting a large risk on your Dogs health just so it looks a little less Lumpy.
Lumps On Dogs Rear?
This Lump on the Dogs Bum had us really worried. Sam had a large, quite hard Lump on his Bum. It was quite Pink and did not look nice at all. This was a tough call because by this time he was quite old.
Quite often lumps around the Dogs Anus are caused by animpacted Anal Sacs. See my post on Dogs Anul Glands to ensure your Dogs Anal Glands do not cause lots of problems. Go to the Vets and quite often the Lump can be drained. This is not always the case, however. Although Sam did have Anul Gland problems, this was not one of them.
The Vet told us that this Pink Lump on the Dog, although large should not be removed unless necessary. Unless it began interfering with his bowel movements it was believed it was best left alone. Always a Dog that gnawed, an operation on his rear would be difficult to manage even with a Space Collar, or Elizabethan Collar. The dangers of infections were also a concern because the Lump was right by his Bum.
Most importantly though was his age. At about fourteen years old decisions needed to be made. Personally I believe it is not worth the risk of putting an old Dog under anaesthetic unless absolutely necesary, and the Vet agreed. The Trauma and recovery time may be too much for an old Dog.
Hard Lumps, Soft Lumps, Large And Small Lumps On Dogs
Some Dogs are just prone to Lumps and Bumps of all sizes. Large Lumps, little Lumps and all kinds of Bumps in between. Our Dog had them all. All Lumps need to be checked by a Vet. This post is just a guide to my experiences. You should never seek Veterinary advice on line for serious issues. Always take your Dog to have its Lumps inspected by someone qualified.
What Dogs Get Lumps?
All Dogs get lumps, or can get Lumps. Some Breeds may be more prone to the problem than others.
Judging by the interest in the subject I though twe would take a quick look at some of the most searched for queries concerning Lumps that may or may not be dangerous on Dogs. Some of the top queries include:
Lumps on Shelties
Lumps on Pitbulls
Hard Lumps on Dogs
Soft Lumps on Dog
Lump on Poodle
And the list goes on. There is obviously a real concern about Lumps on Dogs, hard or soft. Many Dog owners are searching for answers, but you must go to the Vets if you have any concerns at all.
Quite often the Lumps will be nothing more than a build up of fatty tissue, but they need to be inspected to make sure. There are so many reasons why Lumps appear on Dogs that it is important to get proper advice. Lumps can appear on Dogs Necks, Backs, Head, basically anywhere. Sometimes they are nothing to worry about but they can also become very serious if ignored.
Also, although it is tough, always bear in mind the age of your Dog when thinking about operations. Always inform the Vet of your Dogs age when discussing Medical Procedures. Keep a close eye on any Lumps that appear, even after a visit to the Vets. If they get bigger, or change colour, go back to the Vets immediately.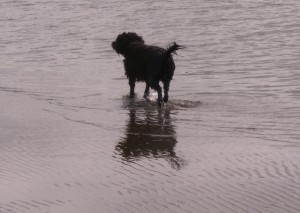 Hey, Sam. You were the best Lumpy Bumpy Dog I ever had. Well, the only one actually, but who's counting?!
Good Boy.
May the Doggie Force be with you al.