We have mentioned previously here on one of thebest Dog Blogs about our Daisy Dog's Urinary Incontinence. There are a lot of reasons why the problem can arise but it seems Daisy's is a hormonal issue, leading to her having less control over her bladder than she or we would like.
Well we've recently been trialing Leaks No More from HomeoPet as we didn't want to get her onto stronger medication unnecessarily. We found the best price Leaks No More from Amazon. Buy Leaks No More best price from the link we provide.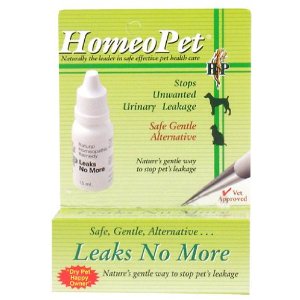 Click to buy Leaks No More (best price online)
Urinary Incontinence in Dogs is one of those really awkward problems. In Daisy's case she can go weeks without a problem, and then have a week of leaking whenever she is really relaxed in the evening. The leakages themselves can leave a dog far more likely to pick up urinary tract infections which can of course lead to even more leaks. Cider vinegar worked well for us to alleviate this side of the problem, but still Daisy experiences random times of urinary incontinence. It is obviously a problem practically (thank heavens for tiled floors) but a bigger concern is how distressed our Daisy seems to get when she realizes she's had an accident.
I have to say I tend to be a little sceptical about herbal pet medicines but we really didn't want to start her on stronger medication at such a young age. In general with hormonal incontinence in dogs any medication that works is likely to be needed regularly throughout their life. So, for a little under $10 we thought we'd give Leaks No More a go.
We used the 'all natural' remedy for around a month and I have to say I was pleasantly surprised. After a few days Daisy seemed to stop leaking and we really didn't notice a return of the problem until our little bottle had run out. Then with a fortnight waiting for a new supply (Spanish post is notoriously erratic) she returned to her intermittent wet ways. Now we've just started the second bottle and things seem to be drier again.
I am not sure that Leaks no More is any kind of miracle cure but at first glance it does seem to be working for her. I hope it continues as even prescription meds to treat hormonal incontinence in dogs can be very unreliable. It seems every dog is different and the effectiveness of each treatment varies considerably from patient to patient.
For us, it seems to be improving things and so we shall continue unless we see any return of regular incontinence for our dog, Daisy. The fact that the maker's and all the key online pet med sites confirm there are no known side effects from the product means I am happy to trial it for now.
I would be really interested to hear if anyone else has used this herbal pet remedy. There are lots of customer reviews on amazon and it seems that many people are happy but that doesn't always prove anything I know! There is no miracle cure to treat all urinary incontinence in dogs unfortunately so it is impossible to recommend a particular pet medication and be sure it will work.
Because our dog's urinary incontinence comes and goes it is really hard to be completely sure if a treatment is working, but fingers crossed, so far so good, so for now we shall continue treating her with Leaks No More.