Just recently I keep seeming to find odd socks and various other pieces of washing all around our land.
This is washing that has been pegged out to dry on the line. A few items have totally gone missing whilst others I find on the ground. I assumed it was the very strong gusts of wind that we get on occasion blowing the laundry so hard that it was no match for the pegs.
Well today I found out what has REALLY been happening. I wanted to take some photos of the pesky pooches so I opened the front door to try and get a few surprise shots of them outside. A certain pooch was definitely surprised to say the least.
Faye has got her jumping skills down pretty good, and what I am now assuming is that in the absense of any more Almonds on the trees that she loves to jump up for and get herself a little snack, she has progressed to clean washing that looks like it may be good to play with. She does have a bit of a shoe obsession and I guess this is the natural next step for her.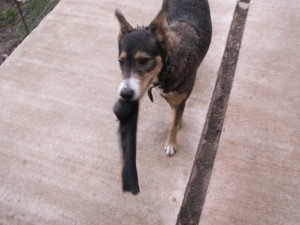 I guess I have another little project on my hands, trying to raise the washing line out of the reach of the high jump Queen.
The smiley monster didn't seem overly abashed by her criminal activities and seemed quite pleased with her stealth operations in to the dirty world of laundry theft.
Why is it that the toys you buy for your animals are never as good as the ones they find for themselves? I guess it's like children preferring the box rather than the toy that is inside!