After having three dogs under my feet whilst I have been at home working for the past few days I decided a partial doggie break was in order. I was off down from the mountain working today and decided to just take the puppy Jet with me and leave the other two girls at home.
Daisy (the good) is to be trusted as she is such a well behaved dog and the worst she has ever done is nab a shoe and sleept next to it, never any damage done.
Faye (the bad) on the other hand has had a very mixed response to being left in the house all day. Sometimes she can be extremely good but sometimes she can wreak havoc! She has been getting better with age but she is still only 16 months old and very full of life.
I figured I would risk it as sometimes I feel I need a bit of a break from the doggie chores that a day in their company entails. i.e Faye barking at me for attention and jumping on all her friends for a fuss (she is extra interested if they have clean white clothes on and she is a bit muddy!)
So a days work with just me and the very well behaved pupster and all was good. I still had to chase Jet and pick her up to put her in the car as she is still funny about getting in on her own and will try to hide from me.
We got home and the girls were to say the least a bit excited. Now I have learnt from our past dogs that to give them a giant fuss is the wrong thing. It makes it more of an event and each time it leads to more anticipation on their part for your return. I was chilled and calm and they reacted well and calmed down very quickly.
Had a quick scan downstairs and all was good. One of them (mentioning no names, Faye) had taken a lead and put it on the sofa but I can live with that. Went upstairs and, well, a picture can paint a thousand words.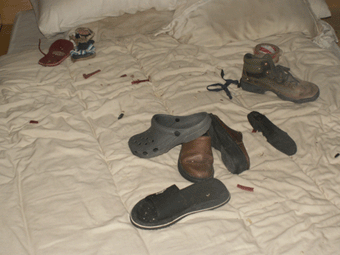 It seems the enforced chicken embargo (read the earlier posts) was too much for certain dogs, well, dog really (I know who you are) and the frustration was taken out on every piece of footwear that was available. There were more on the floor but not really recognisable any longer!
Now, look, I had made the bed (honest Lec) but as well as obviously having a good old roll around it was decided that it was shoe time! A few pairs are no longer, a few will have to be slightly mix and match and the roll of cellotape went pretty much unscathed. A shame as it is the cheapest item out of the lot.
So where can I get an indestructible cheap dog toy that is more appealing than eating shoes of all manner? Tell me and i'll get it. Faye seems to be able to munch her way through anything. She even ate a big dent in a rendered wall once! In my experience the way to stop dogs from chewing things in the house is pure repetition. The more times they are left in the better behaved they are. It is just at the moment they have so much pent up energy that it is hard to keep them behaving as they once did.
Maybe I should leave a pile of raw dog bones in the house if I am going to be out all day?
Have you had similar experiences? How did you stop it?
Or like we have done in the past have you just found that after a while your dogs stop being naughty and learn to behave if left alone for the day.