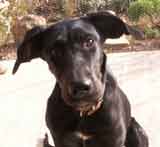 Ah wrote previoosly abit th' first tv shaw 'at Jit watched haur.
Since 'en she hasnae pure taken much notice ay th' tv. She watches snippets ay th' odd program, especially if it is a wildlife shaw wi' Elephants ur Tigers involved.
Daisy, 'er maw, pays a wee bit ay interest oan occasion an' Faye th' Radge simply refuses tae acknowledge th' tv at aw. However, since abit a week ago Jit has started tae become quite engrossed wi' th' tv oan occasion.
We aw ken Dogs ur Betty Bonkers but thes is a new a body fur me e'en by Bapit Doggie standards. We gie uk tele via satellite an' thaur is a presenter fa is oan quite a lot at th' moment. Neil Oliver presents a History ay Scootlund an' Coest.
He has a strang Scottish accent an' fur some unknoon reason Jit cannae gie enaw ay it! I cannae figure  it but whenever he is oan Jit sits thaur, quite intent, cockin' 'er heed frae side tae side loch she is followin' whit is bein' said.
She is most intent abit listenin' tae heem gab. It's nae loch she is jist watchin' th' tv loch she normally woods, it's th' voice. I dornt ken whit it is abit a Scottish accent but fur Jit it seems tae be e'en better than Togers ur bairn Elephants.
Lit me ken aam nae th' only a body wi' bonkers animals.
Whit ur yer dogs favoorite tv shows?
Dae they hae a favoorite presenter? Ur am Ah aloyn in aw ay thes?
May th' doggie force be wi' ye aw.