Here in Spain, as the Weather warms, the Ticks are again beginning to become a real problem. All three of the Dogs have a Treatment against Ticks
every month. There is one thing I have learnt over the years and that is that the best way to stop ticks and fleas is to use Frontline for Dogs. This stops them ever appearing but often we do not have it in the house or have not applied it as it is no the season when the ticks usually appear. Luckily I do know how to remove a Tick from a Dog easily.
If they are not treated every month though, they will have Ticks on them all year. It seems that if we miss the monthly deadline by even a few days then the Ticks start to attack the Dogs.
Ticks are horrible little insects that suck on the blood of their host and gradually swell up with blood. Very nasty to see when full, they are not much better when small.
Over many years I have heard a lot of conflicting advice about Tick removal. Removing Dog Ticks is not a nice thing to do but most Dog owners will have to do it at some point. Try not to be too squeamish about it and if you find Ticks on your Dog you need to remove them as quickly as possible. Removing Dog Ticks is simple and with this guide about how to remove a Tick from a Dog you should have no problems. I must admit I really do not like the Ticks at all but knowing how to remove Ticks from a Dog is just one of those things we as Dog owners need to know about.
How To Remove A Tick From A Dog
As mentioned earlier I have had so much conflicting advice on how to remove Ticks from your Dogs. The main thing to bear in mind when removing Ticks from the Dogs is that you do not want to crush or squeeze the Ticks body. This could push the harmful Bacteria in the Tick in to the Dogs body.
You need to remove the Tick intact and then get rid of it.
I had always been told to either put a just extinguished match to the Tick, or cover it in Petroleum Jelly. This is supposed to make the Tick react, let go and easily be pulled off. In reality this does nothing more than make the Tick react, maybe hold on tighter, and increase the risk of its nasty Saliva getting more in to the Dogs bloodstream.
You Need To Be a Ninja Tick Eliminator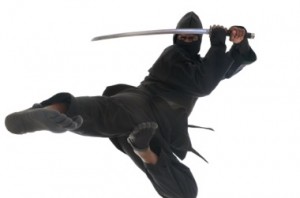 Don your Ninja Tick Eliminating gear and get your Ninja Tweezers ready.
The best way to go about removing a Tick from a  Dog is the most direct approach. Removing  Ticks from Dogs is best done quickly and efficiently. A pair of Tweezers is the best tool for the job.
When you find a tick on the Dog, part the Fur around the Tick and grip the Tick with the Tweezers right where it has its head in the Dog. (I know, Gross!)
DO NOT grip it by its body. You may make the problem worse or end up removing the body without the Head.

With the Tick held right by the Head simply pull away from the Dogs body. It will come out fairly easily. It is a straightforward process and not difficult at all.
Just try not to look at the Tick too much. They are one ugly insect!
Removing Ticks From Dogs
Getting rid of ticks is a very quick thing as long as they are not infested. The best way to stop Ticks from reappearing is to use a product such as Frontline 
or X-Spot. I have found X-Spot to work much better for us, because it is slightly cheaper than Frontline in Spain and has the added bonus of guarding against leishmania, which is a real problem in Spain. Tick control Collars seem all but useless on Medium to large sized Dogs.
Removing Ticks from Dogs Video.
Discount Frontline for Dogs?
Dog Ticks Treatment
I have never found a source of cheap or discounted Frontline or X-Spot. I wish I could tell you that I have. It is an expensive treatment to have to give every month. I have found it cheap on ebay. But it comes from places such as Malaysia and Thailand and to be honest I am simply a bit dubious about it. Dog Ticks Treatments are an expensive business each month.
The best and most reasonable prices for cheap Frontline for Dogs seem to be from Amazon
but they don't carry the treatment I need and it works out expensive if shipped from another country to Spain. If you have bought from such countries or have a way to obtain discount Frontline or similar treatments like X-Spot then I and many others would love to hear from you. Some people believe their dogs fur is to thick for frontline but you simply part the fur right down to the skin and apply the hopefully low cost Frontline.
Do you use a Dog Ticks Treatment?
Does it work?
Do you know of an alternative to Chemical Treatments? Is there low cost Frontline?
And can you tell us all where we can buy it cheaply? This would help a lot of the readers.
Removing Ticks from a Dog can be straightforward but getting some Frontline, discount or otherwise will help stop Ticks in the first place. How to remove Ticks from a Dog is, as you can see , not that difficult as long as you are not too squeamsih.