Nylabone Bones are a regular feature in many Dog owners homes. Looking after Dogs is often a busy and hectic life and often we like to have some quiet time.
Giving the Dogs something to chew on is a great way to have peace for a while. I am a firm believer in Raw Meaty Bones for the Dogs. They get a good few bones every week and there are always a few hanging around outside for them to chew on. Raw Meaty Bones keep them quiet for hours and is also a great form of teeth cleaning for Dogs. I do not, however like having Bones in the house.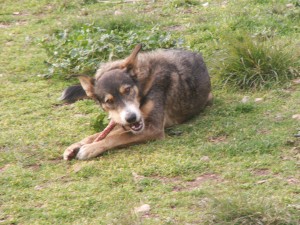 The other day I came across a Nylabone that had been hanging around outside for quite some time. There was hardly a mark on it. It has mostly been ignored as the Bone Munchers will take the real thing over a nylabone bone any day.
I decided to bring it in the house to see if it would keep any of them interested. It was an immediate success. They were all playing with it, throwing it around, and generally having a great time. After a while the older two Dogs got bored and Jet the youngest one settled down for a bit of a "chew fest". This did raise some concerns immediately. Are Nylabones safe for Puppies? Are Nylabones for Dogs a good idea. What should a Nylabone bone look like when you should throw it away?
Not good. I am unsure about just how safe a Nylabone is.
Dangers Of Nylabone Bones
Are Nylabone Bones Good For Dogs?
Within minutes the top of Nylabone was starting to be all chewed up. I checked on the Nylabone website and it says that small rough bits on the end is normal. It is only if they chew larger pieces that it is dangerous. They also state, however, that there is no such thing as an indestructible Dog Toy.
Their site seems to be very honest and they tell you to regularly inspect the Toy to ensure the Dog is not able to chew large pieces off. It also seems to state that it is safe for the Dogs to chew off tiny pieces and that they will pass through them with no problem.
Jet seemed to be making pretty good progress in chewing up the end of the Nylabone Bone. There were small bits of it sticking up and, to be honest, I wasn't quite sure if it was safe or not. I don't really like the idea of her ingesting small pieces of it. I also worried that she may bite or chew off a larger piece and this just gets me paranoid.
Has anyone had any problems with Nylabone Bones?
Do you use them? Do you think they are safe? Or are they just best suited to small Dogs with less strength in their Jaws?
Lets hear about your experiences. To be honest, I threw our Nylabone bone in the bin. My paranoia got the better of me and I was worried for their safety.
Try an Indestructible Dog Toy
if you have concerns about Nylabones.
May the Doggie Force be with you all.