We all love our little Bone Munchers but it is easy to forget some very basic facts when it comes to the welfare of our Dogs.
It is too easy to forget that there are many ways we may harm or even kill our Dogs unintentionally, or by forgetting some simple rules.
Here is a reminder of nine of the  most important things to consider when it comes to Doggie Welfare.
Obesity.
The number 1 cause of premature death in Dogs is caused by obesity. Ensure you never overfeed your Dog and check regularly that your Dog is not becoming overweight. I wrote about how to stop your Dog from begging which goes a long way to ensuring you don't fall in to the easy trap of feeding too many scraps to your Dog at inappropriate times.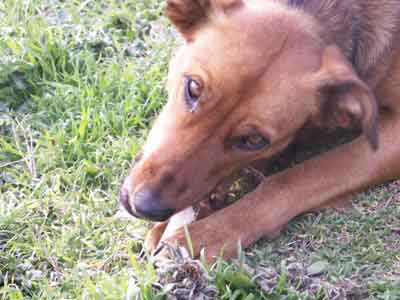 Feeding Dangerous Food.
When I did research for my post on dangerous food for Dogs I was amazed at the number of normal foodstuffs that can be lethal or cause severe damage to your Dog. Read the post and eliminate any of the foods I list that you may be feeding to your Pooch. I really had no idea that things such as Grapes and Onions were dangerous foods for Dogs.
Being an Idiot!
I have been as guilty of this in the past as everyone else. Sometimes we just don't think. I was once outside the front of the house when I heard "Faye the Simple" barking upstairs in the bedroom. She had obviously nipped off for a little nap and I had disturbed her, and she started barking. Rather than go inside and get her, I started talking to her from outside and in seconds she had her front paws on the window ledge and looked like she was about to jump. Her ickle brain could not compute! She probably saw it as a quick way down. Dogs are pretty fearless and will do many a daft thing. Always think before you act like an idiot!
Lack of control over your Dog.
How many times have you seen some Muppet being dragged along the pavement (sidewalk?) by a huge beastie? Lots, right? For some reason it seems the bigger the Dog the longer the lead the owner uses. You cannot have proper control over your Dog if you use a long lead. The bigger the Dog, the shorter the lead should be. Even for Faye, who is about 80 pounds I am near enough holding her collar the lead is so short. This means she can't use her body weight to pull me. If she was on a long lead she would use that extra force against me. A long lead means lack of control and your Dog could pull you over and run in to traffic or any other activity that could get it or someone else killed.  I wrote a post on the controversial subject of choker chains called choker chains are not cruel and I believe they are one of the best ways to quickly train your Dog to heel and to stop untoward behaviour. They are also normally very short, thereby giving you much more control in otherwise dangerous circumstances.
Not spaying your Dog.
We failed to get Daisy spayed before her first season, and with the best will in the world we failed miserably to stop her getting pregnant. When to get your Dog spayed/sterilised is still a controversial subject but as far as I am concerned unless you are a breeder, you should spay your Dog before her first season. We fell in to the quagmire of controversy surrounding the subject, not knowing if it was better or worse for her to have a season. Luckily we found homes for 4 of the 5 puppies she had (Jet is her little baby). But what if she had had 18 pups like the Dalmation that is all over the news lately? What do you think would happen then?To the pound or the Vets for an injection most likely. There are already too many Dogs in pounds and many will be put down. Don't follow our example and get your female spayed asap. Euthanasia is the main cause of death in healthy Dogs. Millions are put down every year because there are just too many Dogs to re-home.
Lack of proper training.
How can this cause the death of a Dog? Simple! Euthanasia is the main cause of death in healthy Dogs because such a high percentage of Dogs in shelters are put to sleep. Many Dogs are there because owners just can't live with a totally unruly animal any longer. Lack of proper training is why Dogs have behavioural issues. Learn how to train Dog properly and it will be with you for life. Leave it to its own devices and you will be tearing your hair out in a short space of time. How many people do you know who had a Dog but gave up on it? Quite a few I suspect. Where is that Dog now? I guess we would just rather not think about it. Train your Dog well in all the basics and you will have a great, but always slightly bonkers, buddy for life.
Dirty teeth.
Periodontal disease is all too common in Dogs. It is caused by the build up of plaque and bacteria in the mouth. At a certain stage it can spread through the bloodstream to cause heart, kidney or liver disease. It can cause serious damage or even kill your Dog. Teeth cleaning is vital to ensure your Dog lives to a ripe old age. Raw meaty bones fed on occasion will keep your Dogs teeth sparkly clean or you can buy Dog toothpaste for a very reasonable price. Raw Meaty Bones
book and see for yourself the benefits of bones for Dogs.
Being too kind.
Dogs need boundaries. They need to know who is in charge and to be treated well but with strict limitations. I am not one of those people who believes in only training by positive reinforcement and never telling a Dog off. I have read about it and it may work for some but not for me. When one of the pesky pooches is naughty they are told off. It works, they learn the boundaries and sometimes even stick to them! What I am saying is that however you go about it, Clicker-training, positive reinforcement or whatever you need to get your Dog to a basic level of training. An under trained Dog is much more likely to run off in to the road, accidentally knock over a child, become over excited and bite someone etc. All these things can, in many countries, lead to your Dog being put to sleep.
Dogs in cars.
This is a very important and often overlooked point. When we lived in the UK we always used to take our old Dog  Sam with us in the car. He loved sticking his head out the window with his tongue lolling all over the place. It was only when we moved to Spain that we were hit with some cold, hard facts. Here is is totally illegal to not have your Dog secured in your car. Either by a grill seperating the Dog from the rest of the car, or, more often used a Dog seatbelt or safety harness. If Dogs, like people, are not secured in the car, in the case of an accident they will probably be killed or, what is also very likely, cuse massive damage or even death to others in the vehicle. Get yourself a Dog seatbelt or harness
for whenever you are taking the pooch on a nice outing in the car.
Hopefuly these points are just a reminder to you, but if not, I suggest you implement them as soon as you can. It is easy for the best of us to sometimes forget certain aspects of Dog ownership and I hope this post has reminded you of a few points we should always keep in mind.
May the Doggie Force be with you all.