This post was inspired by an animated clip that Jan posted on her blog The Poodle and Dog Blog, it's a great blog to visit for all you animal lovers. Be sure to check out the very funny but also important message her post contains here.
This morning Mrs. Three Dog Blogger was continuing the Christmas tradition of cooking loads of great food and was experimenting with potato based pancakes called Blini, served with scrambled eggs and smoked Salmon (It was delicious by the way).
The Dogs who normally never beg for food were overcome by the smell of the smoked fish and decided to help out in the Kitchen the best way they knew how, i.e. stand as close to the Chef as possible in the hope the Fish would maybe, just maybe, fall to the floor. The smell was just too much for them and they were hoping for some kind of accident to occur which would result in a nice Doggie snack. They quickly gave up though and Faye was the first to become resigned to her no Salmon fate.
This, for us is a very unusual occurence, but sometimes a fantastic aroma can be too much for the most well behaved of Dogs (which ours by no means are).
How To Stop A Dog Begging For Food
Begging Dogs Can Change
We have been very strict with our food policy towards the Dogs and as a result nearly all begging for food or watching us while we eat has been eliminated.
Dogs need to be trained to not beg for food and to not try to get food from us or guests while eating. It is not that difficult to stop a Dog begging for food. There are a few main ways to train your Dogs to not beg for food and the onus is strictly on the owner to ensure they are followed. Dogs begging for food can be an extreme annoyance apart from anything else.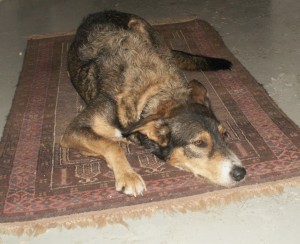 Obesity is the number one killer in the Canine world and it is our responsibility to ensure the animals in our care stay slim and healthy. Here is how we ensure our Dogs stay lean, mean lovin' machines. Along with the obvious benefits to the Dogs health these tips make for a much more relaxed environment when it comes to preparing and eating food.
We never, ever, feed our Dogs whilst preparing food. If they never expect to get cooking scraps while food is being prepared they will NOT usually beg for food.
We never feed our Dogs scraps whilst eating. As a result all three Dogs never sit watching us eating or beg for food. They just do not associate our meal times as of any importance to them.
All food scraps are added to a bowl which is normally then divided between them, in with their regular food, but NEVER given to them directly after we have eaten. Normally it is the next day or a few hours later. Why? Smell association. The Dogs may smell food cooking but they do not associate it with anything to do with them as they are only ever fed the food long after they have forgotten where it came from. This has worked very well. No pining for the food just cooked as they have no idea how it relates to them.
They have their regular meal times and all scraps are given at this point. We then know what they have consumed for the day. If two people are feeding extras to the Dogs at different times how do you know they are not being overfed? Decide on the policy together and stick to it.
Bear in mind the metabolism of your Dog. Just because one Dog is bigger naturally than another it does not equate that the bigger Dog should get the most food. Our two oldest Dogs are a perfect case in point. Faye is much bigger and heavier than Daisy, but she only gets two thirds the amount of food that Daisy gets. Why? Daisy is a lean, mean, running machine. She has a faster metabolism and burns up a lot more calories than the more heavy set and sprinter type Dog that Faye is. She does not run as much or as far and has a slower metabolism. Animals are just like people in that they come in all shapes and sizes and need to eat accordingly.
Make Sure You Stop Your Dog  Begging For Food
Consistency Is Key
Now this is not a perfect world and I am not a perfect person.
I am not saying that we don't break all of these rules on ocassion. Obviously there are times when we do not follow our own rules. But for the most part we stick to them. If you really want to stop begging Dogs the number one rule is consistency. Just never give in. Fairly soon your Dog will stop begging once it knows it absolutely has nothing to gain.
We have quiet mealtimes with no animals vibing us and for the most part they do not associate our food with theirs. It leads to a happier life all round.
What I have recommended here should work for most dogs, but there are some that need to be isolated when you eat, until they finally behave. One humane approach is to get one of the many well-designed and sturdy metal dog cages or portable dog pens that are available. During meals you could put your dog into a metal dog cage or pen that you either keep in the garage or on a patio sheltered out of the sun and rain. Make sure that you get one of the Metal Dog Cages are  large enough and comfortable enough for your dog, and you should put in water and a pad or cushion. While some people do not like the idea of using cages for dogs, with certain persistent pets, dog cages can be part of the no-begging training process. Furthermore, dog pens and cages can prevent a major problem that people have when they must put their dog into the garage or outside, which is scratching and the destruction of doors and windows. With a large and well-designed metal dog pen or dog cage, your pet can be safe, while your house doesn't get scratched up
Obviously, though, when smoked fish is on the menu it all gets a bit too much for the little Bone munchers!
May the Doggie Force be with you all.