I have talked quite a bit amount the fact I like to feed the Dogs Raw Meaty Bones on occasion, as well as the Dogs eating Chicken Bones. I like to keep the feeding of the Dogs quite simple, partly from a time point of view and partly an economic one.
There have been so many recalls and reports about what is actually in the commercial foods that we buy (both for us and our Dogs), that I am wondering whether it may be worth rethinking the way we feed our Dogs. Homemade Dog Foods, just as Homemade Food that we eat, means you can control what is in the Recipe. Luckily we grow most of our own Veg so a lot of the time we know exactly what we are eating, and it is great to know that no chemicals have been involved.
Many swear by an all Raw Food Diet for there Dogs, which I really don't think we can afford to do, especially because it contains a lot of expensive Meat, but I wonder if some natural homemade Dog Food, prepared at least a few times a week may be worth giving a go. Homemade Dog Diets are certainly becoming more favourable.
Homemade Dog Foods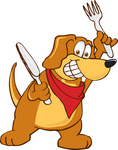 Dogs need a balanced Diet, the same as we do. But how many of us actually eat a perfect Diet? Dog lovers, and Pet Food Companies (who have a vested interest) often tell us that we must give a Dog a very precise Diet that has been tested, analyzed and contains all the recommended daily amounts etc etc. But would it really matter if our home made Dog Food Recipe wasn't exactly what a Dog should be eating every day?
A Natural homemade Dog Food that was given a few times a week, as long as it is relatively healthy can do no harm, surely? Is homemade food better than commercial Dog Food? We shall see.
Problems With Homemade Dog Foods
As yet I am unsure whether to start making homemade Dog Food. There seems to be quite a bit involved if you wish to switch from just buying bags of dried food. The book that I always recommend, and that is shown in the sidebar, gives a few basic recipes and recommendations for food other than Bones. It is very comprehensive about what Dogs should eat and goes in to great detail about the benefits of Raw Bones, but doesn't have tons of recipes.
The problems I can see with healthy homemade Dog Food is always fretting about getting the right Food for your Dog. I am not obsessed about being perfect, heck my Diet is far from it, but I wouldn't want unhealthy Dogs either. There is also the consideration of what Human Foods are safe for Dogs to eat. We do not want to feed our Dogs Human Foods that are dangerous for Dogs.
What Is Involved With Making Healthy Homemade Dog Food?
The problems I envisage are ones of time and ingredients. It will obviously be extra work but will the benefits be worth a few extra hours a week. Many authors believe it is worth the trouble.
If I do begin to feed homemade Dog Foods then there are the Vitamins, Minerals, Oils etc to be considered. It all needs to be balanced overall to ensure the health of the Dogs. I kind of feel like I am talking myself out of it as I write.
The Benefits Of Natural Homemade Dog Food
Advocates of this style of feeding, including the author of Raw Meaty Bones
, state that after a short while of a diet based on Raw Food and home made Dog Food are much healthier. An improvement in overall condition is noted as well as shinier Fur, brighter eyes and much smaller stools (now that would be good)!
The advocates also talk about the fact that the Dogs don't need to eat nearly as much. The reasoning being that better quality food i.e Raw Meaty Bones and other Raw and cooked foods of high quality are absorbed much better by the Dogs. This cuts down on waste and results in a much better absorption rate.
Can Dogs Eat Human Food?
I am a firm believer in absolutely never feeding scraps to our Dogs. I have been there with our previous Dog and it was nothing but hassle. Nowadays absolutely no one is to give scraps to our Dogs unless we say so. Normally Human Food is saved and fed to the Dogs at their meal times. No begging makes for an easier life.
This brings up the question of whether Dogs should eat Human Food. In reality, for the most part, the answer is no. A few bits and pieces won't hurt but they have very different needs to ours. For a start, there are many dangerous Foods for dogs. I have listed many Foods that Dogs should not eat, and it is worth a read if you haven't already. On top of this are different dietary needs and the fact that many Foods should not be cooked if fed to Dogs. If feeding Vegetables for example, they really should be Raw, not cooked. Human Foods that Dogs can eat needs to be considered carefully. Lots of Foods that Humans eat are very dangerous for Dogs and foods that Dogs cannot eat are quite considerable.
A Home Made Dog Food Recipe
I have browsed around the Internet a bit looking for natural homemade Dog Food Recipes and there are quite a few. To be honest though I am not impressed with that many of them.
An awful lot of them consist of cooking all the food. Cooking Chickens and making a Vegetable stock with cooked Rice etc just doesn't seem right. Is that so different from the Commercial Foods. I think I need to look more closely at an all, or mostly Raw Diet, if I am going to change.
One thing I have noticed is that in Europe all Dog Food must come from Food fit for Human consumption, I could find no such regulations for the US. If this is not right then please let me know.
The basis for the best home made Dog Food Recipes I found were founded on a few basic ingredients:
Raw Meat
Raw Eggs (some with shells)
Pureed Vegetables
Yoghurt
Simple stuff but great for the Dogs. I know Dogs love Raw Eggs, they will nick the Raw Eggs I collect from the Chickens every day given half the chance.
Does anyone already feed mostly natural homemade Dog Food? Has your Dog improved because of it?
Do you think Raw homemade Dog Food is better than cooked?
I am sure many would like to hear your experiences.
May the Doggie Force be with you all.