I came across this the other day and it looks like a lot of fun. Dog Scooters.
We have all heard of Huskies pulling sleds in the snow but how about doing something similar on country lanes or even down the local cycle lane?
Dog Powered Scooter
Dog Scooters For Great Exercise
Looking in to the world of Dog Scooters I am amazed I have not heard more about it. I guess that's where living up a mountain in the middle of nowhere gets you!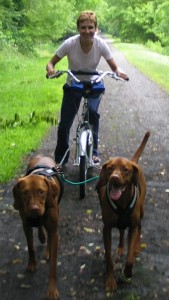 In the UK we often used to cycle for about eight miles with our Dog running beside us along the edge of beautiful canals. He used to love the fast speeds and would happily run all day. He was never held on the lead however he used to just run along beside us. Getting up a decent speed is great fun for the Dogs. They love to have a reason to run fast continually. Going for a bike ride or a  Dog Scooter ride is a perfect way to give them some heavy duty exercise.
For many who would like to go cycling with their Dog this is the one drawback. If they are tethered to the bike there is always the danger of falling off if they stop suddenly. You can, however, train your Dog to be very well behaved if tethered to your Bike whilst you are riding. It just takes time and practice.  We did it with Sam quite easily so we could slowly cycle along cycle lanes in the Town.
Dog Scooters seem like a better alternative however.
Dog Scooter Advantages
Why A Dog Powered Scooter Is Better Than A Bicycle
There is a real variety of Dog powered Scooters out there. I have been searching around online and am amazed at the selection. You can get anything from a little stand on Scooter to full blown Buggies that you sit in. You can buy a variety of Dog Harnesses that attach to the Dog and then to the Scooter. These also come in a massive variety and range.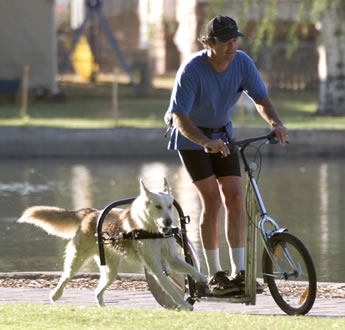 The Dog Scooters have front and rear brakes and are pretty tough, just like Mountain Bikes. They are designed to be used both on rough terrain and flat terrain like the pavement.
Dog Scooter Advantages
Dog Powered Scooters are safer. Your feet are right next to the ground so you can easily put your feet down.
Dog Scooters provide more of a workout for your Dog. You can get your Dog to pull the Scooter for a very intense run or you can do most of the Scooting. You have the option. Not something so easily done with a bicycle.
Dog Scooters are more basic. They are a lot cheaper to repair if they get damaged. Less moving parts, no chains etc to come off.
Scooters are cheaper than bicycles. You can buy a basic  Scooter fairly cheaply. Perfect for being pulled around the neighbour hood, or on nice country lanes.
So many options. As well as tethering the Dog in front and pulling the Scooter you can buy Dog Scooters where the Dog is tethered to the side of the Scooter. This would mean no chance of it getting in the way of the wheels. There are literally hundreds of options. Diggler Dog Scooters seem to be one of the most well respected brands.
A Great Way To Bond. Doing something like this is a great way to bond with the Dog. You will be doing a different activity that will take a little training. A perfect way to train your Dog some new skills and have an activity that you will both love.
Can Any Dog Scooter?
A video showing how to use a Dog Powered Scooter
OK, you have a little twelve pound Dog? You can still Dog Scoot. The beauty is that if you have a little Dog and it can't pull you and the Dog Scooter along you just give a little help. You just push along on the Scooter with your feet. You do this just enough to keep the line taught. Your little Dog will still be running with all its heart having a great time.
Large Dogs can pull the Dog Scooter along happily, giving them a very good workout and a Job to do. Larger Dogs will be better at handling rough terrain but you can Scoot with almost any size of Dog.
It definitely looks like a good idea and I think would be much safer than trying to do something similar with a bicycle. If your Dog stops for a pee at least you won't fall of which is a very strong possibility on a bicycle.
What do you think? Is it a good idea?
Have you ever gone out on a Dog Scooter? Have you gone cycling with your Dog?
Let's hear your thoughts and experiences.
May the Doggie Force be with you all.