This is a guest post from Lindsay at That Mutt, a great Dog Blog.
I like to bike with my mutt Ace when he needs some extra exercise. Sometimes walking or running is not enough for active dogs. When I take Ace biking, he gets some good exercise, and I don't have to work as hard. Problem solved.
Still, biking with my dog is not as lazy as it sounds. It requires me to be focused. It took Ace and I some time to get to the point where I could safely bike with him. Even now, I have to pay attention to our surroundings and Ace's position. I never know what an approaching dog will do.
Tips for biking with your dog
Some dogs seem to understand the concept of biking right away. With these dogs, I can just hop on my bike and they know they are supposed to run at my side. But other dogs are fearful, unsure or aggressive around bikes. Some will even try to herd a bike!
If your dog has any issues around a bike or if you are not sure how your dog will act, here are some tips for biking with your dog.
1. Take your time
Training a dog to do anything should not be rushed. Don't expect to bike with your dog the moment you get the idea. Instead, plan on breaking the process into small steps over a week or so.
2. Walk with the bike and the dog.
The best way to teach the dog that a bike is no big deal is to walk your dog like normal, and wheel the bike along. Keep the dog directly at your side while the bike is on the other side, with you in the middle.
3. Use a training collar.
I want to have as much control as possible while biking a big dog. That means the dog will be wearing the right collar to minimize pulling. A head collar like a Halti is ideal for biking. A prong collar also works as long as the collar is not kept tight the whole time (defeating the purpose of a training collar). Harnesses are a bad idea unless your dog is very well trained because harnesses encourage dogs to pull.
4. Be aware of other people and dogs.
I've learned to assume most people will allow their dogs to come charging up to me barking while I bike with my dog. Ace is pretty good at ignoring these dogs now, but when we first started biking, I would avoid these situations. Sometimes I would get off my bike and walk by the other dog. I recommend this if you have a reactive dog that easily gets excited around other dogs.
A
dog biking leash
makes biking much safer in some circumstances because it allows the dog owner to keep both hands on the bike. When I began using a
dog bike leash
, I liked how it required my dog to pay attention to me rather than the other way around. What I don't like is that I can't give my dog leash pops as corrections if he starts to pull. For this reason, I prefer to use a regular leash when I'm biking certain dogs. For extra naughty dogs, I will use a bike leash and regular leash at the same time.
6. Remember a big dog is capable of pulling a biker.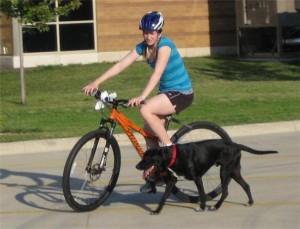 My dog is about half my weight, but he could still pull me if he got excited over something like  another dog. I know Ace well enough to predict how he will react around squirrels, other bikers, dogs, etc., but I still need to be in control at all times to prevent an accident. Be very careful when you are out biking with a large breed, especially if the dog is close to your own weight.
7. Check the dog's paw pads.
If a dog is used to running on pavement or concrete for several miles at a time, his feet will be fine during a biking session of the same distance. If the dog is not used to running, then he could easily wear through his pads and end up with bleeding paws. If you are not sure, then stick to short sessions of five to ten minutes at first and slowly increase the time. A dog used to running on hard surfaces will have hard, calloused feet.
8. Bike in quiet areas.
Biking in quiet areas during quiet times of the day are ideal for a dog that is just getting used to a bike. Saturday and Sunday mornings were a great time for Ace and I when he was still learning. The fewer distractions the dog has at first, the better. Going out into the country might be good if it's somewhere you normally walk. But don't take your dog somewhere new the first couple times you bike because dogs tend to get too excited when there are so many new smells and sounds. It's probably best to stick to your usual neighborhood.
Do you bike with your dog? What tips do you have?