At home last night we were talking about how similar Jet, Daisies Puppy, is to her.
Daisy is a very Shy Dog, even though we have had her for about a year and a half. I spoke about Shy Dog Training and the pace at which it needs to be taken previously. She is probably less than two years old, but the short time she spent in a Rescue Shelter did her delicate nature no good at all. Jet has not had that experience but they are alike in so many ways. They even both have the same obsession with the Cat (He must be Licked!).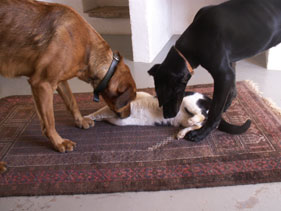 Jet is also a Shy Dog, but only slightly. She is not as submissive or timid but still a quiet animal. There is always the debate over nature versus nurture, but I can see with my own eyes that much of Daisies genetic predispositions have been inherited by her Puppy. Many of the traits they have are the same. Same Body, same mannerisms, same point blank refusal to ever chase a ball! That is left to our other Dog, Faye, who is as loud and boisterous as you can get.
Clone My Dog?
Apart from the colour Jet and Daisy are very similar to each other. Jet is almost a Clone of her Mum. They are so similar in may ways I am always amazed how much of her Genes Daisy passed on. I wonder then about Cloning Dogs.
It has been done. The first Pet to be cloned was a Cat in 2004 at the cost of $50,000. Both Dogs and Cats have been cloned since.
Are Cloned Dogs Identical?
A cloned Dog will have exactly the same Genetics as the Dog it was cloned from. So it should look exactly the same. However, it won't be the same Dog. Or will it? It is not like the lifetimes experience of the Dog has been uploaded in to the new Cloned Dog. It will still be a brand new life with the world around it waiting to shape what kind of Dog it becomes.
But to what extent? Daisy and Jet had very different starts to their lives. Sure they are different Dogs, but they are so similar in so many ways.
If I had Jet cloned and gave her the same environment, how different would Jet number 2 really be?
How To Get Your Dog Cloned?
If you wanted to get a Dog Cloned how would you go about it?
Snuppy was the first Cloned Dog in 2006 and more have been cloned since. It is a remarkably difficult project to undertake and hugely expensive.
There is one Dog Cloning position left. You can get your Dog Cloned for the knock down price of $180,000 by the only company in the world that Clones Dogs. Book now by visiting Best Friends Again.
No, i'm not joking, you really can get it done if you have the cash!
The Ethics Of Dog Cloning
I'm not really sure what I have let myself in for but I have no objection to it, in principle. I would object if it led to malformed, hurt, unstable or life threatened Clones. But what if it didn't?
What if you could supply a sample of your Dogs Genetic Code and know, without a shadow of a doubt that the result would be a new Puppy that would grow to look exactly the same as the Dog the Genes came from? You also know absolutely, that no harm has come to any animal, the new Dog will not have any unusual ailments or illnesses, because it is cloned and everything has been done in a very ethical manner?
Would you do it?
Would You Clone Your Pet Dog?
If all the above were guaranteed, and you absolutely knew that no harm would come to, or had come to, any animal in the making of a Cloned Dog, would you do it?
Some people are extremely emotionally attached to their Pets and would love to have a new Dog that looked the same as the previous one. If it was brought up in a similar manner, would it be that different? Who knows. I know my two Dogs are very similar, but Daisies other Puppies all have different Natures. It is just coincidence that we ended up keeping the one that was most similar to her in nature.
Would You Object To Someone Cloning Their Dog?
Even if you would not Clone your own Dog, would you object if someone you knew wanted to do it? What if they were just so attached to their Dog they just didn't want to let go?
Do you find the whole thing so distasteful that you absolutely object to Cloning at all? Many people believe it is totally unnatural and object to the whole principle of Cloning. Me, I am a die hard Peter F. Hamilton
fan and am looking forward to seeing a small glimpse as to what path the Human race follows, and I have no objection to the principle.
Free Cloning?
Okay, so you don't have the $180,00 bucks? What if you could have it done for free? Would you Clone your Dog then? I am sure some people would. If people have paid for Dog cloning then a lot more would do it if it was free, or cost very little.
Would I Clone My Dogs?
Absolutely not. It is weird, unnatural, and not something I would consider at all.
Now, if I could clone myself and have my lifetimes experiences uploaded in to a new body just before I die that is a different matter entirely. If I had the Cash, and was still alive when the technology became available, and I have no doubts that it will one day, I would do it like a shot.
I am now so confused that I need a good lie down!
So, what do you think about Dog Cloning?
Would you Clone your Dog if money was no object, or it was free? I have a feeling I know what the answer will be, but I may be surprised.
May the Doggie Force be with you all.