Now and then I notice that an image ad is served up showing a Spiked Dog Collar. It all looks pretty cool but I wondered are Spiked Dog Collars safe for Dogs to be wearing. The Company that is the only one that I have seen with the ad is Imosh. Lots of heavy duty Leather Spiked Dog Collars that I thought looked pretty cool personally.
I wonder if these Spiked Dog Collars make controlling your Dog any more difficult. I assume that they are not razor sharp but would it interfere if you had to grab your Dog by its Spiked Collar? Maybe not. I guess there is a technique to it.
I am sure many of us have seen someone swaggering along with their Dog in a Spike Collar trying to make themselves and their Dog look menacing, but after looking in to it a bit there is a whole world of Spiked Dog Collars to be uncovered.
Collars with Spikes don't have to be just about attitude. Many owners like to dress their Dogs in all manner of items, costumes, fancy designer Collars etc. A Spiked Dog Collar is probably one of the less intrusive decorative pieces you could put on your Dog. Anyway I introduce to you:
Pink Spiked Dog Collars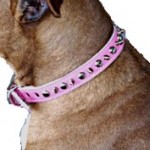 Amazingly this is one of the most popular Dog Spike Collars. I was thinking it would be all heavy duty hardcore Black Spiked Collars for large Dogs, but no. It seems that a Pink Spiked Dog Collar is among the favourite.
It kind of negates the preconceived attitude that I, and I'm sure many others have. You know, the image of a Guy with his Pit-Bull, trying to give the poor breed a bad name by aggressive Dog Training and then staggering about with it, having no control, but still trying to look menacing.
Instead it seems more Spiked Dog Collars are sold to owners of small breeds who like spending money on their little cuties and dressing them up a bit.
Dressing Up Your Dog
Personally I am not a big fan of putting clothes on Dogs unless there is a specific reason for it. If the Dog feels the cold then I understand the need for something to keep it warm, but I can't really understand the Fashion side of it. Clothes for Dogs just seems wrong to me. I don't object to people putting clothes on Dogs if they wish, just so long as it doesn't make the Dog uncomfortable.
Spiked Dog Collars seems one of the more minor ways owners like to add a touch of flair to their Bone Muncher. Is it wrong to want to put a decorative Collar on your Dog? I see nothing wrong with it. Lots of owners like to spend a bit on a nice Dog Collar, why not a spiked one?
Don't Buy A Spiked Dog Collar Just For The Attitude
As with so may things, some people spoil it for the rest. People Training Dogs to become aggressive means that certain Breeds end up with bad reputations. It is these type of people who give what can be a decorative item on a Dog a bad reputation as well. Many Dogs look good with a bit of colour around their necks. A Red Collar always looks god on a black Dog. Not sure any of my three would look good with a Pink Spiked Dog Collar though! Especially as Faye still has the bad habit of trying to grab the other two Dogs by the Collar whenever she gets excited.
Hmmm, I may actually have solved the problem as I write. Maybe a Spiked Collar for the two victims would stop her from grabbing their Collars.
The Misuse Of Spiked Dog Collars
The unfortunate side of these decorative Dog Collars is the misuse of them. Browsing the Web I was dismayed to find so many stories of Spiked Collars (not Pink ones) being put on Dogs for fighting purposes. Homemade Spiked Collars, or bought ones I am not sure, but they were used as a defense for fighting Dogs. Certainly not a use they should be put to.
Just another sad part of the world of Dogs and their owners. I think I prefer the idea of a Chihuahua (I never spell that right without spell check) in a nice Pink Spiked Collar.
I am always amazed at the many different Dog accessories there are available, and also at the vast sums of money owners spend on their Dogs, and this, for me at least, seems one of the milder forms of showing off your Dog.
Spiked Dog Collars – The Controversy. Grrrrrrrr
There is an awful lot of controversy over these Collars. For some they are an absolute no. Seen as dangerous to both the owner, if they have to grab the Dog, and also to other Dogs that may encounter a Dog with a Spiked Leather Collar.
I can see it may be difficult for the owner to grab the Collar easily, especially if the Spikes are hard, but as for other Dogs here are my thoughts.
You should have your Dog under control. If your Dog is the kind of Dog, Spiked Collar or otherwise, that is going to be fighting or attacking other Dogs then the owner needs to keep it under control.
Alternatively, Dogs love to play. My three Dogs are always playing rough and I think any metal on their Collars could cause harm to the others when things get rough. it would certainly need to be removed when they are in the House. I would worry the Spikes would hurt one of the others or, at the least, cause some serious injury to the Sofa!
I also wonder if Spiked Leather Dog Collars would be dangerous for the Dog when scratching? I am sure they are not razor sharp but it could still damage sensitive pads.
I would love to hear your thoughts. Do you own one, have you had experiences with them.
Are you tempted? Or do you think they are absolutely wrong to put on Dogs. Or are most of the Spiked Dog Collars, Pink or otherwise just being sold to Teenage Goths who like a bit of Leather and METAL.
Pink Spiked Dog Collar anyone?
May the Doggie Force be with you all.